PROJECT : TOP SURGERY SHIRT


Mastectomy (breast reduction) Bilateral 19318-50

Nipple Graft 15200

Gender Dysphoria code F64.0

-------------------------------------------

As a trans nonbinary person, I've personally had difficulties with feeling confident in my body. I experience chest dysphoria, "A phenomenon known to cause distress in many transmasculine individuals is chest dysphoria: physical and emotional discomfort and distress caused by the presence of unwanted breast development." (Jamie E. Mehringer, MD).

I currently wear a binder :
"chest binding is the flattening of breasts with constrictive materials such as cloth strips, purpose-built undergarments, often using spandex or other synthetic fiber, and shirts layered from tight to loose."

With my personal experiences living with gender dysphoria I've taken the path to pursue top surgery (chest masculinization):

This procedure requires recovering up to (fully healed) 6 months and 4 weeks to see regular movement in the arms.





As a response to this and a method of preperation, I've designed a post top surgery garment which serves to make wearing a shirt in the recovering process easier. I also designed this garment for casual wear for anyone of any gender. While still being a shirt I have constructed it to additionally serve the purpose to relieve chest dysphoria for those who dont plan to get surgery/are waiting/ or just have similar dysphorias.






INTENTION: Post-top surgery & casual wear

Trims:

- Eyelets: scar breathability (placed methodically at the incision area)

- Magnetic snap/press down snaps: easier dressing and undressing

Construction:

- Interior Pockets: allow for drains to be held without outwardly being exposed and hung comfortably

- Lowered armholes: post-surgery limited in movement ( for the first 2 weeks in recovery a persons arms are limited in movement to 90 degrees ; under shoulder height)

- Side opening with snaps: easy wear


---

INTERVIEWING COMMUNITY:

I took it upon myself to do research with mutuals who identify as non-binary/genderqueer/ transmasc or those who experience gender dysphoria and host a meeting 1-to-1 to ask them their own experiences regarding dysphoria with clothing, etc.


Preliminary q's

If had top surgery:


What types of clothes did you wear from the beginning of recovery to where you are now that helped you breathe better / be comfortable/ move your arms more, etc
Did you modify any clothes to help make things easier?
What did you wish you had to wear?

Dysphoria

What causes your dysphoria with what you wear?
What clothes bring you gender euphoria?
What silhouette do you look for in tops/ bottoms?



ex: 1 of 10 responses (others via call/facetime/zoom)

---

FITTINGS


After prototyping this top surgery garment with this primary and secondary research I sought out the same community and conducted fittings on 4 individuals of different body types to get feedback and make alterations.


1.Eli in 1st sample
ALTERATIONS:


Designed 2nd sample with changes


Used a medium weight muslin.


Created a new opening at both side seams


Added velcro to the side seam and center front (to be replaced by magnets or press snaps)


Shortened the length to serve the torso in a manner which is not oversized and yet covers the hips (some trans nonbinary people experience hip dysphoria)




Eli in 2nd sample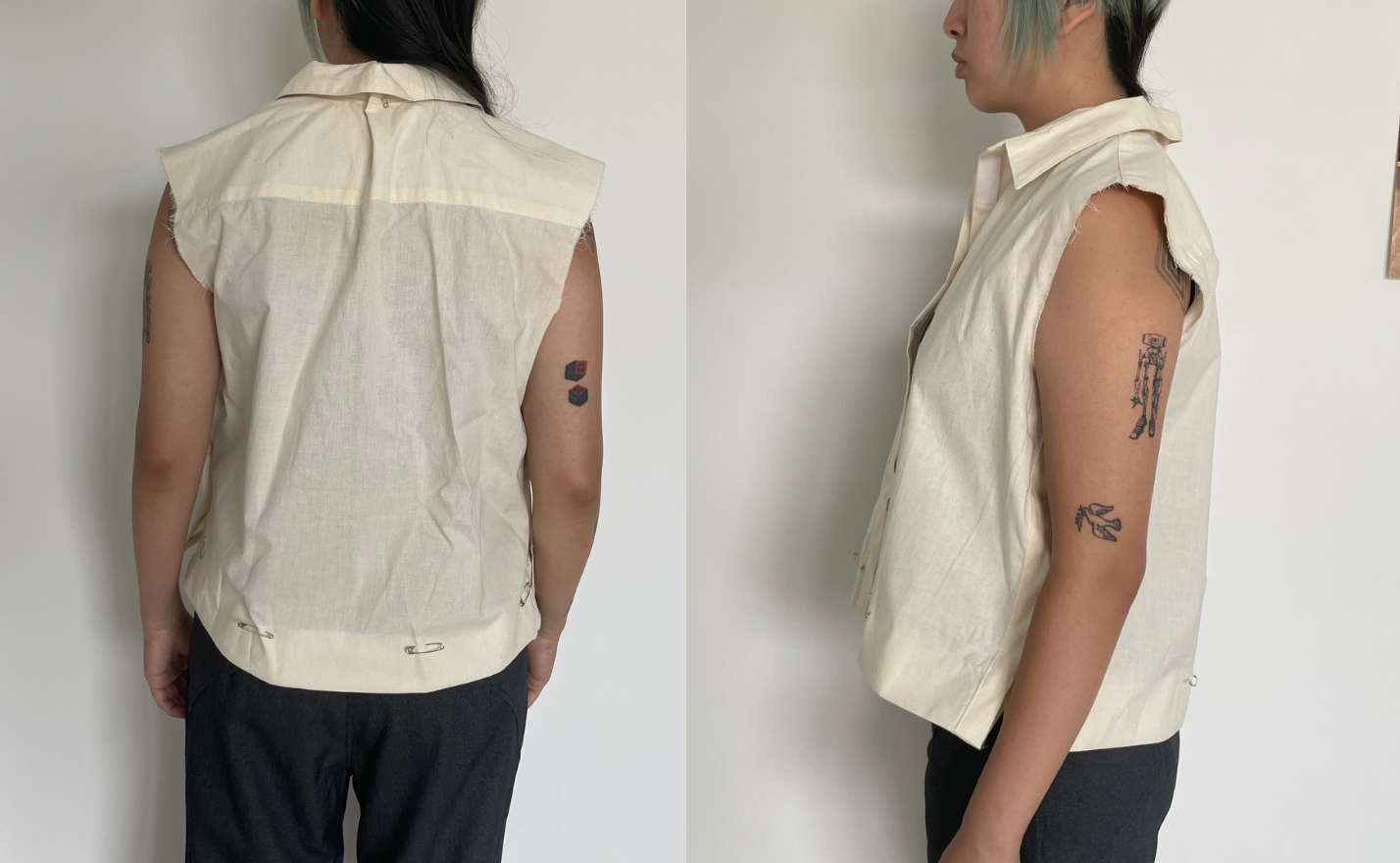 Momo in 2nd sample


Ricci in 2nd sample



Alterations for Final:

Adjust gaping in armhole shown through the yoke. Lengthen top by 1".


---

SKETCH PROCESS - FULL LOOKS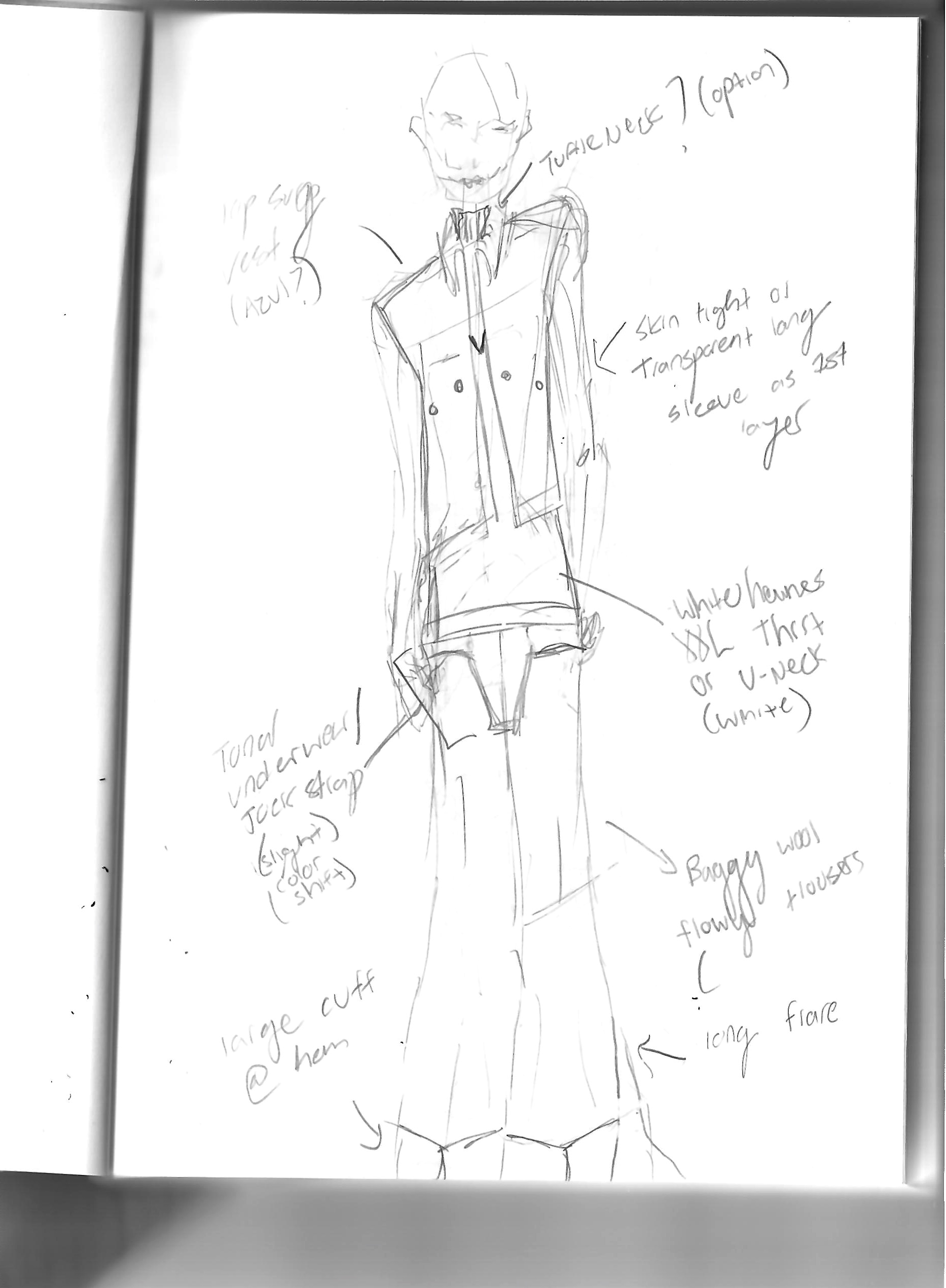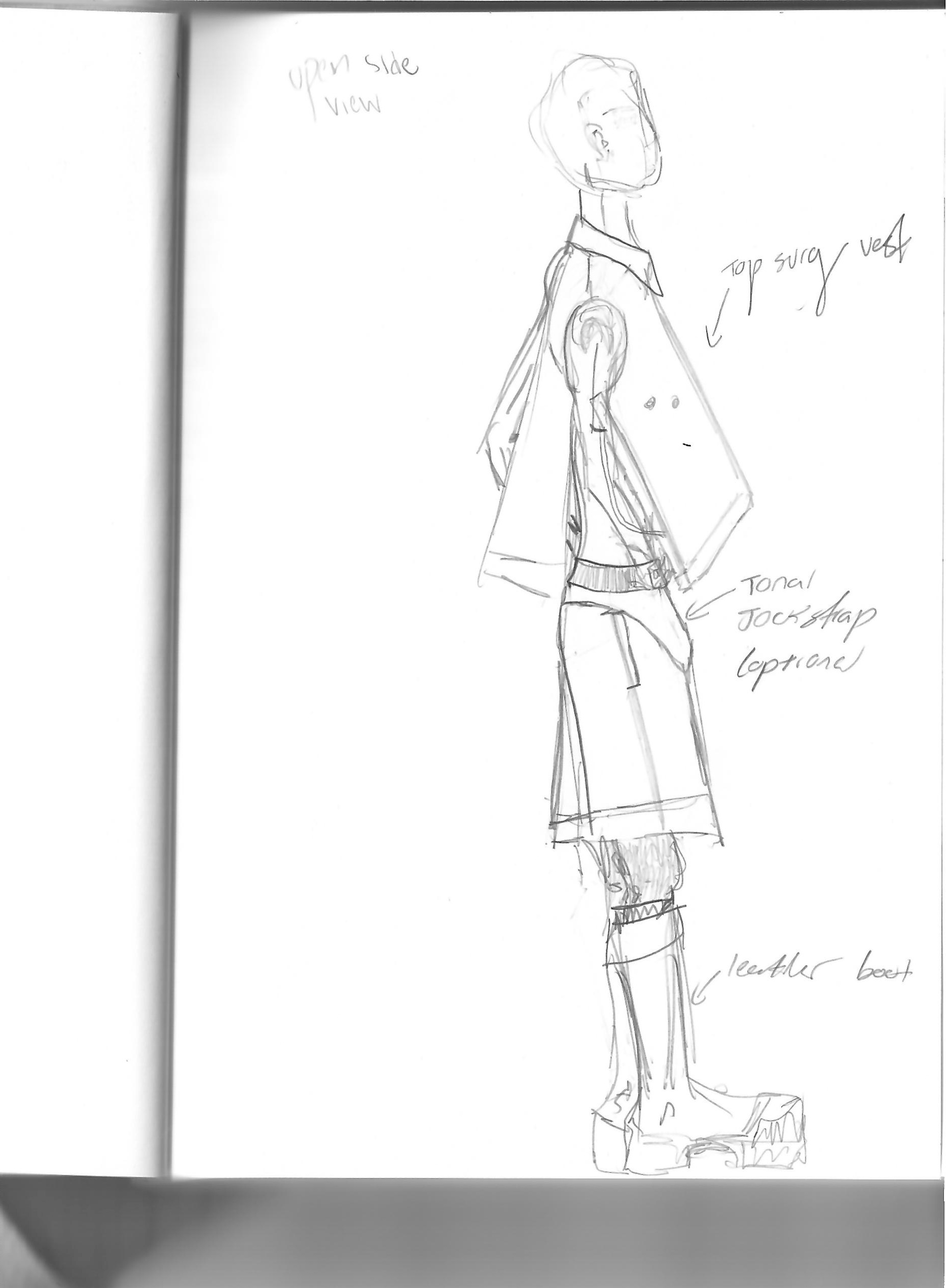 ---

Color Story-

Reflective of the bare chest and intense procedure which is intimate, altering one's body from nudity and core, Yüra draws inspiration from tones of raw materials sought from earth and body. Utilizing colors such as rust reflects the growth of wounds and a new beginning faced with healing.

Textures such as coarse cotton and dye processes such as extreme washing/ aged wash / enzyme wash/ shifting tones, we mirror bruising and the process both emotionally and physically endured through this personal experience.



---
TECH PACK

DETAILS: EYELET & CF PLACKET


DETAILS: SIDE VIEW (S.S OPENING PLACKET)


DETAILS: INTERIOR POCKET


COST SHEET/ BOM





SPEC SHEET